Here's a step-by-step quick-guide on how to make branded surveys, a.k.a cool surveys. There are a lot of different details that you can adjust to your heart's content with our style editor, but with this guide you should be good to go after 5-10 minutes.
Organizations' admin users can create and set survey templates to their Surveypal users, more information here.
Add company logo
Pro-tip: Use a png-image with transparent background. That allows to adjust survey page transparency later.
On Build-view add an image element to the survey canvas
Click the element to open image bank
Add your logo to the bank via upload button (bottom left corner)
Select the image and click Add-button
Adjust logo size from a small grey bracket in the image
Adjust logo alignment from the image element gear menu
Save changes

Change survey background image and page transparency
Pro-tip: Background image with HD-resolution of 1900x1200 pixels works best in most screens.
Navigate to Design-view
Click laptop-icon
Open Background-section
Click rasterised Background-box to select an image from the image bank (upload image if needed)
Click Page background color -box to adjust page transparency (Opacity percentage adjustment is a trap, don't fall in it.)
Adjust page transparency from a slider that is visible in the colour picker (Modesty is virtue here, use max 0.85 transparency.)
Save changes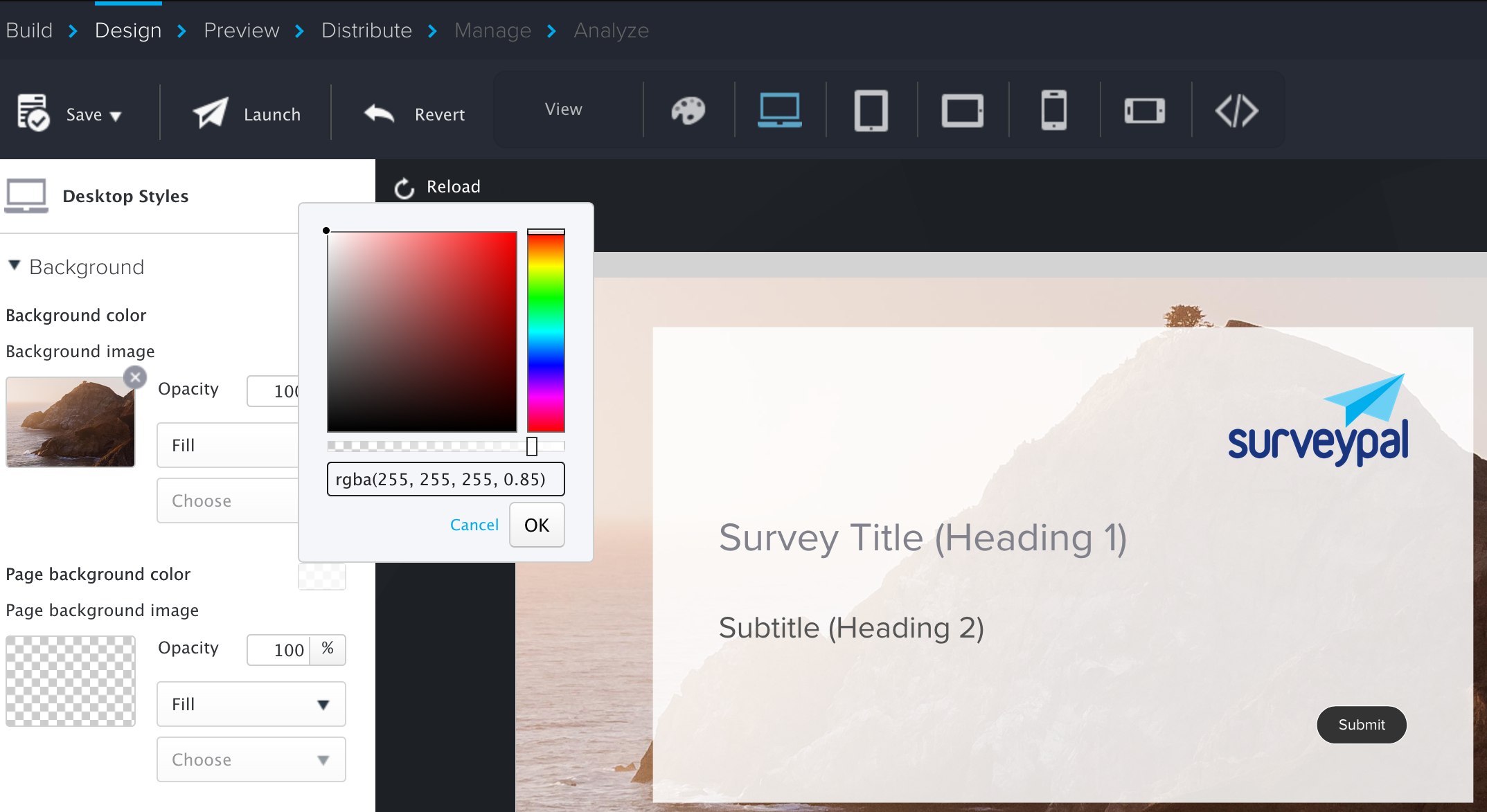 Change title and subtitle colours
Pro-tip: Colour picker #-value field accepts also RGB-values, e.g. rgb 0 0 0.
In Design-view (laptop selected), open Colors -section
Click Heading 1 colour picker and use brand guideline main color
Click Heading 2 colour picker and use brand guideline secondary color (This adjustment might not be visible on survey form if Heading 2 is not used in any text element.)
Save changes

Change font
Pro-tip: Hosted fonts can be used if needed font is not available. Check Google font guideline.
In Design-view (laptop selected), open Typography -section
Click Base-font and use brand guideline font (If font is not available, check accepted fallback / electronic document fonts from the guideline or use a hosted font.)
Save changes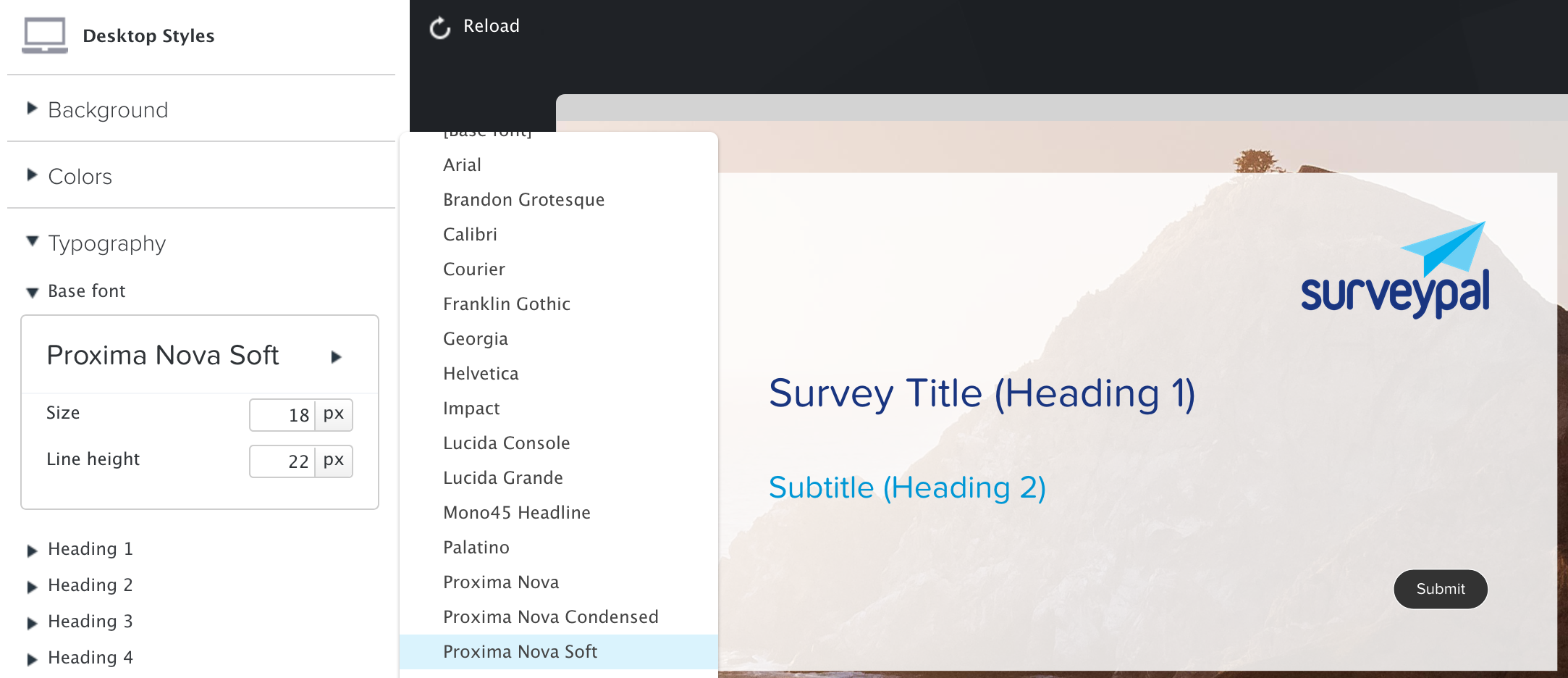 Change slider color
Pro-tip: Adjusting slider fill color is a subtle way of bringing brand colors to surveys without going overboard.
In Design-view (laptop selected), open Colors -section
Scroll down to Elements -section and click open color picker from 'Slider color'
Set wanted color with # or RGB values
Save changes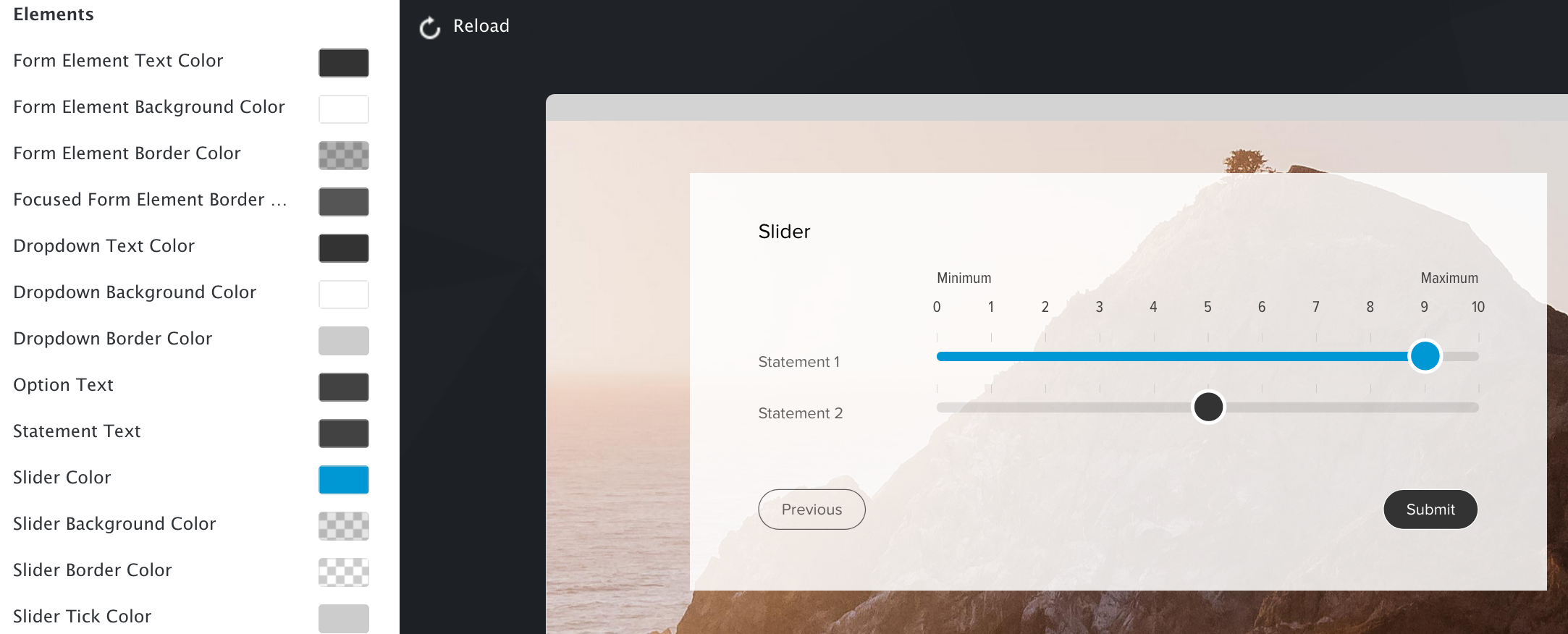 Check portrait mobile settings
Pro-tip: By default survey forms adjust automatically to smaller screens, but it's good to check how your survey fares on narrow screens. Adjustments to e.g. portrait mobile -view will not override desktop (laptop icon) settings on larger screens.
In Design-view click portrait mobile icon to preview your survey on mobile screen
If there seems to be a need to do adjustments, click 'Use custom styles for portrait mobile'
Open section you wish to adjust (E.g. changing Heading 1 em-value smaller makes the survey heading fit better to smaller screen.)
Save changes